O&M WILL CREATE 90 JOBS FOR RESIDENTS OVER THE 25 PLUS YEAR LIFESPAN OF THE PROJECT
(NEW BEDFORD, MA) – Vineyard Wind, a joint venture between AVANGRID, Inc. (NYSE: AGR) and Copenhagen Infrastructure Partners (CIP), today commemorated the construction of operations and maintenance (O&M) facilities on Martha's Vineyard with a visit to Tisbury Marine Terminal. The facility, along with two others on the island, will provide support services for the windfarm once it's operational, creating 90 jobs while also bolstering the community's environmental sustainability goals.
In addition to O&M technicians, the facilities will employ people with a range of skillsets, such as site managers, planners, helicopter pilots, crew transfer vessel (CTV) support staff, and health, safety and environmental (HSE) managers, among other positions.
"In many ways, Martha's Vineyard is playing a starring role in this first in the nation project," said Vineyard Wind CEO Klaus S. Moeller. "It's not only where our company gets its name, it's also going to be our long term home for O&M for 30 years, creating good paying year round jobs for islanders. We've spent many years working with the town and the community, and to get to this point where we are actively hiring and construction is underway is a real validation of all that effort. I want to thank Vineyard Power and all of our partners on the Vineyard and look forward to cutting the ribbon on this facility when it's completed next year."
"The local workforce on Martha's Vineyard will play a central role in the successful operation of this historic project, and AVANGRID is proud to commemorate the construction of these critical facilities at the Tisbury Marine Terminal," said AVANGRID CEO Pedro Azagra. "AVANGRID looks forward to assuming its role as the operations and maintenance services provider for this first-in-the-nation project once it achieves commercial operations, and leveraging the proud maritime heritage and skill of the local Vineyard community by creating nearly 100 well-paying jobs on the island."
Work at the Tisbury Marine Terminal began in late 2022, with dredging and other site preparation activities. When completed, the port facility will be able to support up to three CTVs that will be used to transport O&M technicians to the windfarm.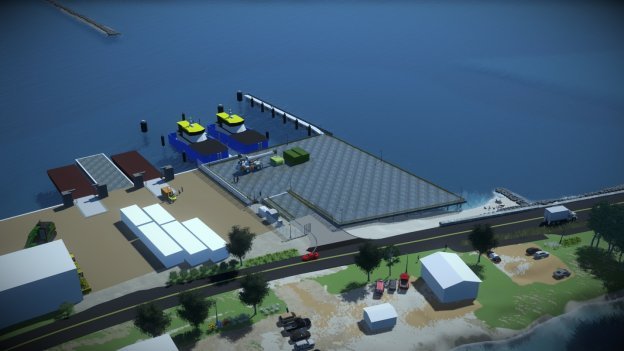 "Today's announcement is proof that the offshore wind revolution has arrived," said Senator Ed. Markey. "The Vineyard Wind operations and maintenance facility has the potential to create nearly 100 jobs and provide opportunities for local residents. The future is bright and blowing in the wind."
"On Martha's Vineyard, Cape Cod, and Nantucket, our communities are witness to the effects of a rapidly changing climate every day," said State Senator Julian Cyr. "The region's viability and prosperity have always depended on our natural environment and ocean ecosystems, which are now at significant risk. We are at a critical moment. What we do today on the climate crisis will determine whether future generations can prosper or even survive. Taking action to combat climate change and lower our carbon output must be among our highest priorities. With the siting of Vineyard Wind's Operations and Maintenance facilities on Martha's Vineyard, Islanders are both part of a giant leap forward for renewable energy and also have a chance to bolster the year-round economy with good paying jobs in the clean energy revolution."
"Massachusetts is leading our nation on clean energy, and Martha's Vineyard is at the forefront of this revolution. This project will not only create thousands of local jobs, but will also help us reach our ambitious climate goals," said State Representative Dylan Fernandes. "Vineyard Wind is a symbol of Massachusetts' commitment to a clean energy future, and I'm thrilled to see the project come to fruition."
Construction work is also active for the O&M service building which will be located on Beach Road in close proximity to the terminal. The facility will include offices, technician support space and storage. The building's design incorporates sustainability initiatives such as solar panels, electric vehicle charging stations and bike parking.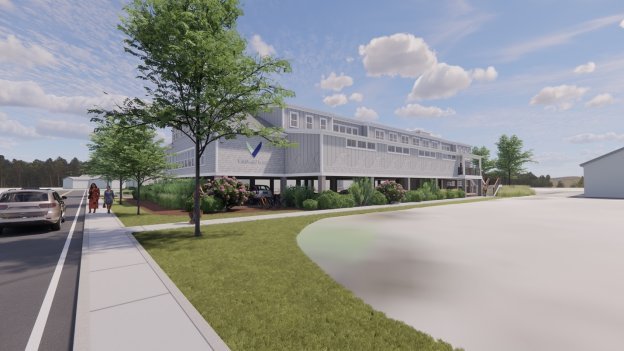 "Through our landmark partnership with Vineyard Wind, culminating in the nation's first offshore wind Community Benefit Agreement, we were able to secure several major benefits for our community which include: the revitalization of the Tisbury working waterfront that will enable dozens of skilled island based jobs, millions of dollars in funding to enhance our island's resiliency at critical facilities through solar and battery storage projects, and direct financial support for income eligible residents to benefit from the transition to reduce and eventually eliminate fossil fuels", said Vineyard Power President Richard J Andre. "I want to thank all the members of Vineyard Power, the Vineyard Wind team, the town of Tisbury, the Martha's Vineyard Commission and MV Center for Education & Training for their contributions in making this day possible."
A new hanger is also being constructed at the airport to house a helicopter that will service the project. Like the O&M service building, the hanger also includes sustainability initiatives, including an all-electric heating system.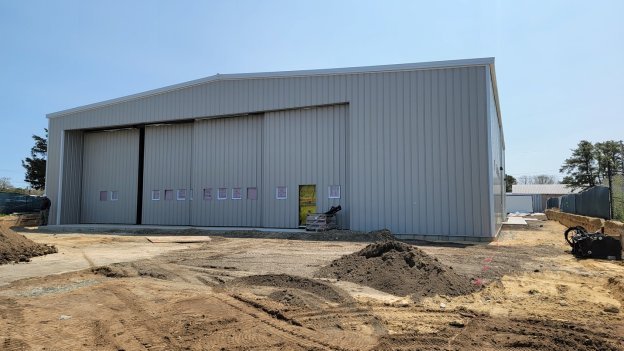 Vineyard Wind has been actively working to fill positions with island residents, hosting multiple job fairs and weekly office hours.
Vineyard Wind recently submitted its first annual report to the state compiled by UMass Dartmouth and Springline Research Group that found Vineyard Wind more than doubled early estimates for the number of jobs created and dollars invested.
An 800-megawatt project located 15 miles off the coast of Martha's Vineyard, Vineyard Wind will generate electricity for more than 400,000 homes and businesses in the Commonwealth of Massachusetts, create 3,600 Full Time Equivalent (FTE) job years, save customers $1.4 billion over the first 20 years of operation, and is expected to reduce carbon emissions by more than 1.6 million metric tons per year, the equivalent of taking 325,000 cars off the road annually.
###
About Vineyard Wind
Vineyard Wind LLC is an offshore wind development company that is building the first commercial-scale offshore wind energy project in the U.S., to be located 15 miles south of Martha's Vineyard. Vineyard Wind 1, based in New Bedford, Massachusetts, is 50 percent owned by funds of Copenhagen Infrastructure Partners (CIP) and 50 percent by Avangrid Renewables, a subsidiary of AVANGRID, Inc. (NYSE: AGR). For more information, visit www.vineyardwind.com.
Contact: Andrew Doba | adoba@vineyardwind.com | (617) 362-3872